The actor will begin campaigning for Pawan Kalyan from Sunday and cover Anakapalle, Pendurthi and Gajuwaka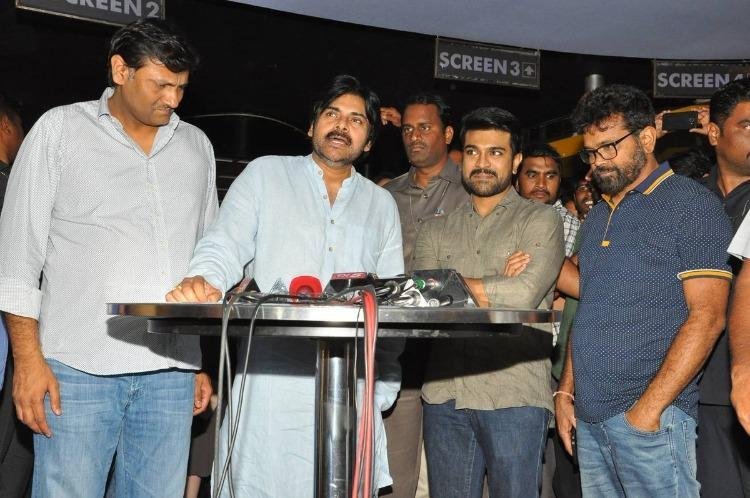 Actor Pawan Kalyan and his members from the Jana Sena Party are conducting door-to-door campaigns in Bhimavaram in West Godavari. The actor has resumed campaigning in Tenali district on Saturday after he was taken ill two days ago.
Joining the campaign will be Pawan Kalyan's nephew and Tollywood actor Ram Charan Teja. Currently busy shooting for Rajamouli's magnum opus RRR, the actor joining the campaign bandwagon will definitely boost Pawan Kalyan's electioneering strategies across Andhra Pradesh.
Confirming to TNM, sources close to the Jana Sena Party said the actor will begin campaigning for Pawan Kalyan from Sunday and cover Anakapalle, Pendurthi and Gajuwaka, the second seat Pawan Kalyan is contesting from in Visakhapatnam. On Monday, the actor will be covering places in the East Godavari district and day after will be travelling to the West Godavari district.
Taking to social media on April 4, Ram Charan applauded the Jana Sena's election manifesto and also wished luck to the party candidates.
Pawan Kalyan's nephew and actor Varun Tej and actor Allu Arjun are also expected to join the Jana Sena's election campaigning.
Ram Charan has earlier also campaigned for the now defunct Praja Rajyam party (PRP) which was founded by his father and actor Chiranjeevi. Though Chiranjeevi has not ye campaigned for his brother Pawan Kalyan, political analysts say that Chiranjeevi's image wouldn't help Jana Sena as the actor's political career has been a failure.
On the other hand, Ram Charan campaigning for the Jana Sena will attract crowds as the young actor is one of the most sought after stars in Tollywood. His mass appeal and connect with the youth will help Pawan Kalyan in swinging young voters.
In a major boost to the party, Pawan Kalyan's brother and actor Naga Babu also joined the party last month and will be contesting from the Narsapuram Lok Sabha constituency.
According to reports, Pawan Kalyan's slogan of zero budget politics has attracted IT professionals and volunteers who are now extensively campaigning for the politician, especially on social media.
While Pawan has been active in politics for close to a decade, this is the first time that he has actually contested directly. He had campaigned for PRP in 2009. In the 2014 polls, he went with TDP-BJP and campaigned for them.
Andhra Pradesh, which is expected to see a multi-cornered fight, has 175 Assembly and 25 Parliament constituencies. The Jana Sena this year is contesting from all of them in an alliance with Left parties, CPI and CPM.